Information
[[

|250px]]


Romaji Name

Tsukasa Kiryu

Japanese Name

霧生 つかさ

Role

Protagonist

Appears in

Akaneiro Ni Somaru Saka

Appears in

Akaneiro Ni Somaru Saka (series)

Eye Color

Purple

Hair Color

Orange

Hair Length

To Chest

Apparent Age

17

Gender

Female
She is a member of the News club. She has a lively personality and loves to gossip as well as tease Jun'ichi. Tsukasa is a second year student in the same class as Jun'ichi, and is his childhood friend of course since she is one of jun'ichi closest friends she knows the most about him. Tsukasa is hinted to have feelings for him.
Personality
Edit
Tsukasa always loves to tease Jun'ichi and takes alot of pictures of people. She also has feelings for jun'ichi she shows it once or twice in the anime.
Appearance
Edit
Tsukasa is an very attractive teenage female with light brown hair that comes all the way to her back dark orange eyes she wears an black ribbon on her hair all the time to. She also has the largest bust out of all the female characters she has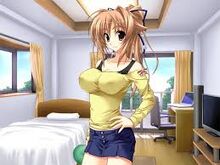 Ad blocker interference detected!
Wikia is a free-to-use site that makes money from advertising. We have a modified experience for viewers using ad blockers

Wikia is not accessible if you've made further modifications. Remove the custom ad blocker rule(s) and the page will load as expected.