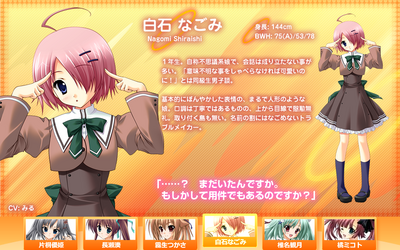 Information

Romaji Name

Nagomi Shiraishi

Japanese Name

白石 なごみ(しらいし なごみ)

Role

Unsorted

Appears In

Akaneiro Ni Somaru Saka Parallel

Appears In

Akaneiro Ni Somaru Saka (Series)

Eye Color

Blue

Hair Color

Pink

Hair Length

To Neck

Apparent Age

Teen

Gender

Female
Birthday: April 21st
Height: 144 cm
Three sizes: B75 W53 H78
A first year high school student in the same class as Minato. She has an air of mystery around her, strongly hinted of being an alien, and can be found just about anywhere at the right time.
Ad blocker interference detected!
Wikia is a free-to-use site that makes money from advertising. We have a modified experience for viewers using ad blockers

Wikia is not accessible if you've made further modifications. Remove the custom ad blocker rule(s) and the page will load as expected.