Karen is a second year student that is in the same class as Jun'ichi. She is an original character that was first introduced in Parallel. She comes from a very rich family like Yuuhi and prides herself on acting like a lady.
She eventually admits to falling in love with Jun'ichi.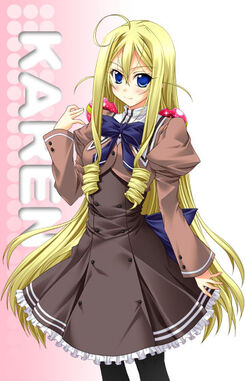 Information

Romaji Name

Karen Ayanokouji

Japanese Name

綾小路 華恋 (あやのこうじ かれん)

Role

Unsorted

Appears in

Akaneiro Ni Somaru Saka

Appears in

Akaneiro Ni Somaru Saka (series)

Eye Color

Blue

Hair Color

Blonde/Yellow

Hair Length

Past Waist

Apparent Age

Teen

Gender

Female
Ad blocker interference detected!
Wikia is a free-to-use site that makes money from advertising. We have a modified experience for viewers using ad blockers

Wikia is not accessible if you've made further modifications. Remove the custom ad blocker rule(s) and the page will load as expected.